Adopt-an-Ancestor Program
We're working on an online database where people can post gravestones that are in need of attention, but until then, please send an email to:
Include a "before" photo of the damaged stones, where it is located, GPS coordinates if known, name, birth and death dates (or as much information as you can read), and let us know what needs to be done. I can assist with some genealogy to fill out the history and family links of the person. For now, we'll post it on the Facebook and webpages and ask for financial or volunteer assistance to help in preservation and repairs.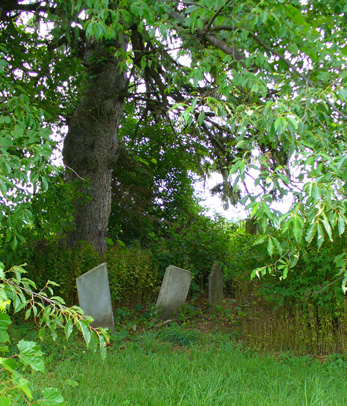 Revolutionary War Soldier, Jared Blakeslee and Family:
This set of stones is in Madison in upstate New York. Revolutionary War soldiers are a dime a dozen there because that is where many of them recieved their land bounties for their service. Though Jared Blakeslee was a Revolutionary War soldier, his family's stones are largely forgotten (though someone does seem to be cleaning them). They are in a corner of the "Indian Opening" cemetery, affected by tree roots, within feet of someone's driveway which is behind the tree. It would probably cost $500 to dig out the tree roots and reset these stones level and then landscape the area. Any amount toward this goal would be appreciated, and an "Amount needed to reach goal" chart will be posted with the picture. If you would like to help, please contact Shannon at the link below.
Please contact Dr. Shannon Nolte for more information.